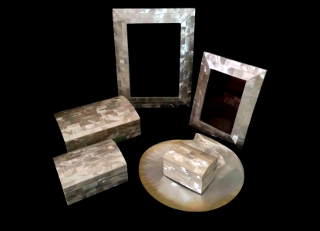 EXOTIC SHELL COLLECTION

Exceptional beauty and distinctive quality typify each and every product in our collection. These inspiring ladies designer clutches, frames and boxes that are meticulously crafted by Filipino artisans from exotic Philippine shells. Our Shell Collection is a showcase of home and office accessories inlaid with magnificent shells from the deep blue seas of the Philippines' 7,000 islands.

Abalone Shell: Crackled shell with grey or silver color on its normal shape. The thick inner layer of the shell is composed of nacre which in many species is highly iridescent, giving rise to a range of strong, changeable colors.
Brown Lip Shell: Crackled shell with its natural color of whitish light brown color. It cannot be dyed.
Troca Shell: Cone shaped white shell with stripes cut into rectangular shapes, skin to Mother of Pearl.
Mother of Pearl: Aurora Borealis of the Deep Seas, made from inner oyster shell. It lines the inner iridescent surface of an oyster shell.
Fossilized Stones: Natural colors are dark red and blue from the deep sea with lacquer finish.


Mother of Pearl is gathered by divers from a depth of 125 feet and the oyster has to be at least 4 to 5 years old before the pearl is harvested. Our mother of pearl products are created from natural shell and grown in pearl farms of the Philippine Islands where the temperature and salinity of ocean waters are conducive to breed high quality pearls. The shells are individually hand-cut, polishes and inlaid in rectangular pieces and patterns by gifted artisans for centuries. These beautiful shells are transformed into exquisite pieces of art.
TINALAK

T'nalak production is a labor intensive process requiring a knowledge of a range of skills learned from a young age by the women of the Southern Philippine Islands. First, abaca fiber is stripped from the abaca tree, cleaned, dried and separated into strands. These strands are then carefully selected, hand tied and rolled into balls.

Once fibers are dry they are then laid out on a simple wooden loom. The abaca fibers are stretched out on the loom, then tied with other fibers rubbed in beeswax, the beeswax creates a barrier for the dye to only penetrate certain fiber strains. The pigment of the materials are naturally dyed and boiled with bark, roots and leaves of plants produced by the T'boli weavers themselves. After the dyed fibers are dried, which takes weeks at a time, it goes through the technique called lemubag (wood pounding) where the fibers are made flexible and pliant.

For the final touch, the T'Nalak is laid out on a bamboo fixture where it finally passes through the 'smaki' (shell rubbing), a method of bringing out the luster of the finished cloth. T'boli craftswomen use the saki, a big turtle-shaped sea shell for this purpose. The 'smaki' (saki shell-rubbing process) brings out the waxy sheen of the cloth.

It is a heritage and belief that the intricate and creative patterns of the T'Nalak are all conceived in dreams. That's why they are called the "Dream Weavers".

Our T'nalak cucthes are also adorned with intricate designs which are meticulously sewn with a variety of fresh water pearls, abalone, mother of pearls, other semi precious stones and glass beads. Min colors are black grey guava white, crème.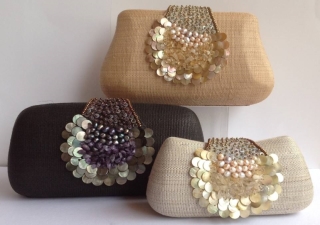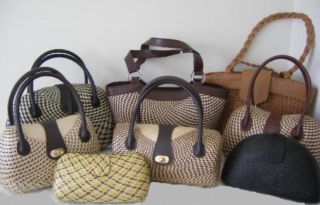 LADIES HAND BAG COLLECTION

Our unique bags are fit for the upscale working woman . A conversation piece among ladies.

We have several natural materials, patterns and weave styles that are eye catching for both handbags and clutches. These are made from buntal fiber , mother of Pearl and Tinalak.

Buntal is made from a flowering palm (Corypha elata Roxb.) grows to be 40 years of age grown mainly and indigenous to the Philippine Islands. The leaves can be up to five meters long where several types of fibers are obtained: buri, and buntal. The petioles are stout, two to three meters long with margins having hard spines . There are about hundreds of weavers from many of the main islands engaged in weaving using its fiber. With skilled hands coupled with creativity, the weavers are confident that they can face the challenge for world quality products. It is very meticulous and finely woven therefore it commands a more intrinsic value than the ordinary straw bag. These are turned in a whole range of products, such as fans, hats, baskets or shoes.
EMBROIDERY

The fine art of Philippines embroidery is well known all over the world. The Philippines is also famous for hand loomed fabrics , which range from fine and transparent to textured and geometric. Together, the blend of textures embodies a unique and captivating style with universal appeal with its intricate design and soft hues. Embroidery in the Philippines originated as a hobby among women folk in provinces and barrios. Today, our embroidered bags and pouches continue this tradition to address the needs of large commercial orders.

Our bags, scarves, and bridal material are made of Jusi, a natural pineapple plant fiber. They are versatile pieces that may be used to store precious baubles, money, cosmetics, delicate hosiery and small lingerie items for travel and home. They are also eye-catching as evening bags, money bags or wedding/party favors. Our bags come in different sizes, colors, and hand painted designs. We can custom make also according to your specifications.

Our jusi bags are a conversation piece among ladies. We have several colors, patterns and weave styles that are eye catching for jewelry rolls, or wedding favors.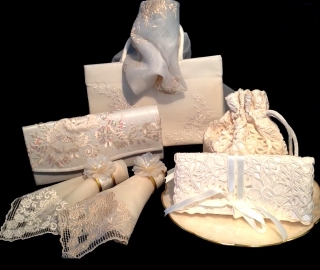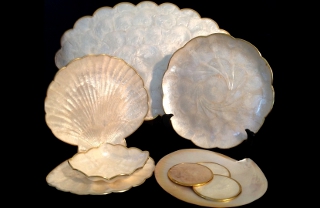 CAPIZ

Capiz ( Placuna placenta ) are beautiful shell species found in the deep Philippine waters. Gathered by native divers they are individually hand-cut, polished and set in solid brass bindings. In the hands of gifted artisans, these shells are transformed into exquisite handmade pieces of art with a tiffany glass look. Some designs are delicately hand painted with flowers fruits, or abstract shapes.

Capiz is a thin shell found in the tropical waters of the Philippines. It has a pleasing translucence that creates a unique expression of a cozy lighting effect and a soft natural glow. Once the shells are selected and gathered from the sea, they are softened and individually polished, hand cut, and lacquered with a polyresin material to smoothen the texture and enhance their natural glow. To add a smoke tint the shells are baked in a kiln. Each shell is soldered by hand and secured with in brass fittings along the edges when made into globes and chandeliers..

Capiz Shells are soaked and treated with a softening solution overnight to make pliable. The thin plates inside the shell are either flattened or shaped into a mold to match the desired end product.

The shells are laminated using polyresin or polylite material to give them a smoother texture and glued to a wooden base (for jewelry boxes) or cork base (for placemats and trivets). A finishing touch of lacquer is applied.